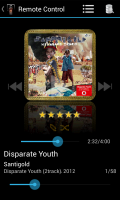 Music Remote Control gives you the capability to control MediaMonkey from any android device. The plugin will create an internal media monkey server for you, which communicates directly with any number of connected clients(Android app).
Features(app):
 
*Play/Pause
*Previous/Next Song
*change volume/mute
*Shuttle
*Shuffle/Continous Playback
*Rate Song( Library as well as ID3Tag)
*Complete Control of Playlist(+Save)
*Complete Control of Library
*synchronous, visual control( PC, mobile phone)
*unlimited clients(mobile phones) can connect to the server
*desktop widget
*library sync
*equalizer support
Note: This application is hosted externally.  The corresponding Android application (musicRemoteControl.com) can be found within the Google Play Store(https://play.google.com/store/apps/details?id=musicRemoteControl.com).
By geckosolutions
Submitted by geckosolutions
Updated 06/01/2014
Version History / Details
24328 Downloads
Version History / Details