Hi folks !
Here my first script:
The Multi-Previewer
My Scripts
The idea and code based on one of the great scripts from trixmoto the "Previewer". Thank you for the base script– I have learned much of it.
With the Multi-Previewer you can take songs from your mediathek, quick listen to them iterative and pick songs you like to fill the now-playing-list with it.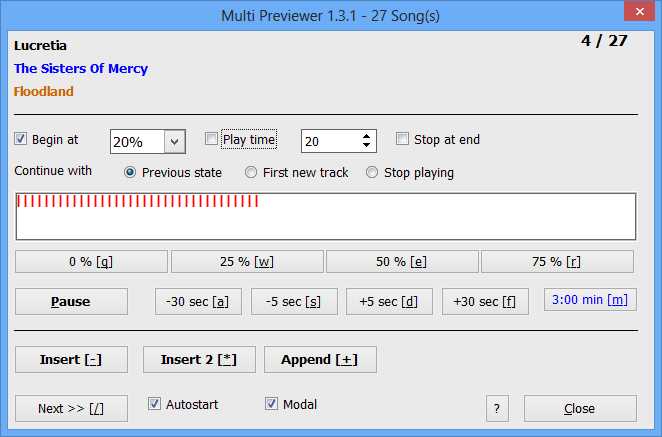 It works as follows:
1. Select one or more songs from you mediathek
2. Start the "Multi-Previewer" (Menu/Player, Context-menu or hotkey)
3. The player start with the first selected song. The playing can be started at the beginning or from a relative position (Checkbox "Begin at position")
4. You can seek in the song absolute (to 0%, 25%, 50%, 75%) or relative (5 sec, 30 sec) with the hotkeys.
The hotkeys are organized as a block on a German keyboard like gamer use the keyboard. If you want other hotkeys or translate the button text you can easy manipulate the script. Take a look on the variables at the first lines of the script.
5. If the song end is reached the player jumps to the next song automatically unless you have enable "Stop track at end".
6. Before then song finishes you must decide what to do with the current song. "Next" will skip the song and plays the next and it will been removed from the now-playing-list.
7. Append: Append song as last to the end of the now playing list
8. Insert: Insert it directly after the song, which was played before you started the Multi-Previewer
9. Insert 2: Appends it after your last inserted song – if you have no inserted one before it's the same as "Insert"
10. If you press "Close" or last selected song was played, the player starts again with the song played before (at the position before) or plays the first new song of the now-playing-list
11. You can seek in the song by clicking with the mouse in the area under the red bar.
Before you can do this you must calibrate the mouse. Click on the help button "?". (The Messagebox disappears sometimes in the background. Bring it to top with the windows taskbar entry.)
Hold down the Shift & Strg & Alt Key and click with the mouse in the panel at the most right possible position in the panel. Begin at right edge outside the panel and move the mouse pixel by pixel to left and click permanently until you get a message. Maybe you must do again it if you change the skin.
12. Move mouse over the controls and wait to get a hint on its function.
13. The multimedia key "Stop" seeks to the next track. (side-effect) The Pause/Play button works but will not be update the state of the Pause/Play button -> next version. The "Next Track" button works normal,