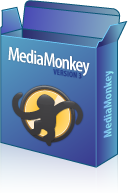 Buy MediaMonkey Gold
Version 4 License
Entitles you to all 4.x upgrades. $24.95USD
Get it free with Trialpay
Purchasing Information
MediaMonkey transactions are processed via Element5 a division of Digital River, or Trialpay. Our store supports a variety of payment types including credit cards, cheques, and PayPal. Digital River and Trialpay are industry leaders in transaction processing: all communications are encrypted and stored securely.
Getting Your License Key
Soon after you complete your purchase, you'll receive an e-mail containing installation instructions and a License Key to register MediaMonkey Gold.
If you have questions about the purchase process see the Element 5 faq. If you're having problems with your order you can contact Element 5 customer service.
Existing MediaMonkey License Holders
If you have a 2.x / 3.x license, please see the upgrade faq for upgrade information.
If you've lost your 3.x or Lifetime license key, you can retrieve it as described here.