Browse Addons
MediaMonkey Addons
MediaMonkey Addons let you customize and extend MediaMonkey to meet your needs. Most addons can be installed by simply downloading and running them. For additional info please refer to our knowledge base.
Featured Addon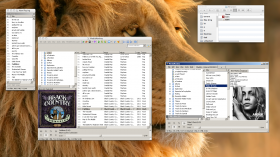 MediaMonkey packaged as a Wineskin application that can run natively on Mac OSX. Perfect for playing music on your Mac and editing ID3 tags. At last you are free of having to use iTunes and the full power of MediaMonkey is available to Mac users. Uses the MAD Plugin for sound reproduction. Note 1:USB devices will not be seen by MM. Note 2:Some addons may not work reliably with this approach
By markstuartwalker
Submitted by markstuartwalker
Updated 09/12/2011
Version History / Details
124417 Downloads
Version History / Details
Version:

Updated:

09/12/2011

License:

Free

Works with:

Media Monkey 4.0 - 4.9

Changes:

Blank wrapper filled with MM4.0.0.1459 and the MAD plugin.
Version:

Updated:

06/09/2011

License:

Free

Works with:

Media Monkey 3 - 4

Changes:

Complete WineWrapper application