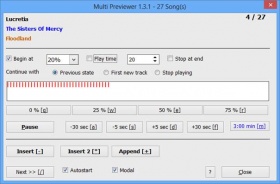 With the Multi-Previewer you can can hear songs in an iterative way without destroying the now-playing-list. Select some songs, start the previewer, quick listen to it and jump to the next or pick the songs you like to fill the now-playing-list.
The preview for every song can be started at a relative song position and the playing duration can be restricted automatically. A quick seeking function with hotkeys and a seekbar for mouse-clicks is integrated, too.
When you close the previewer or the last song was played, the previous playing state can be restored or the first added new song can be played automatically.
Its made for quick judging.
(To get the context menus - restart MM)



By Andreas Weichert
Submitted by Andreas Weichert
Updated 03/09/2013
Version History / Details
18897 Downloads
Version History / Details