Extend MediaMonkey's management abilities.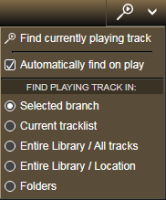 It allows finding and displaying of the folder that contains the currently playing track within the selected branch of the Media Tree automatically whenever the program starts to play another track. After the containing folder is located, the currently playing track will be selected in the main tracklist.
There is no direct download, the add-on will be send by e-mail after received donation. The free version for MM4 is available for download at its web site.
By Zvezdan Dimitrijević
Submitted by ZvezdanD
Updated 20/06/2022
Version History / Details
1431 Downloads
Version History / Details
Version:

Updated:

20/06/2022

Works with:

Media Monkey 5

Changes:

Added: version of the add-on for MediaMonkey v5.
2920 Downloads
Version History / Details
Version:

Updated:

08/12/2020

Size:

1.25 KB

Works with:

Media Monkey 5.0.0 - 5.0.0