Search found 2 matches
Search found 2 matches • Page 1 of 1
by Cybergooch

Mon Nov 05, 2018 7:35 pm
Forum: Need Help with Addons?
Replies: 1437
Views: 799399
Yep...at least I think so.
It says it's installed for current user.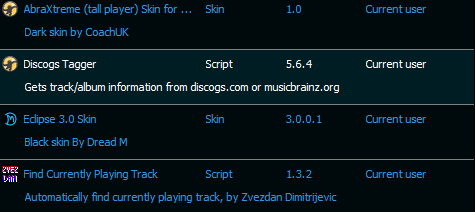 by Cybergooch

Mon Nov 05, 2018 7:24 pm
Forum: Need Help with Addons?
Replies: 1437
Views: 799399
I'm fairly new to MM4 and am trying to figure out the autotag from web thing. Apparently it no longer works with Amazon. (so I'm not sure why Amazon is still selectable in the options window?) I installed the Discogs tracker, and according to the directions: "After installing the script you have to ...
Search found 2 matches • Page 1 of 1