3-Pulse Skin
First released: 31.12.2010
Current version:1.0.0.0
Last Update: 31.12.2010
Greetings
This is a
modified version
from Pulse skin who is included in the last MM4 Beta builds !
To use this Skin with
MM3
i have to change some things/objects like:
InfoPopUp's (MM3 dont support round corner stuff)
and reduce the number of used Icons !
and match the player title info !
Pulse Skin is inspired by some screenshots from
Token Icons
,Dreadlau post here in the ArtWorkForum,
and so comes one to the other ,Dreadlau create this wonderful set of Icons ( great job for the first Icon set )

Theme and Player was my part.
(so be careful with screenshots ,you never know what's happens)

Thanks to Dreadlau,Rusty and Petr for suggestions and constructive criticism !

Theme / Player :
with MonkeyRok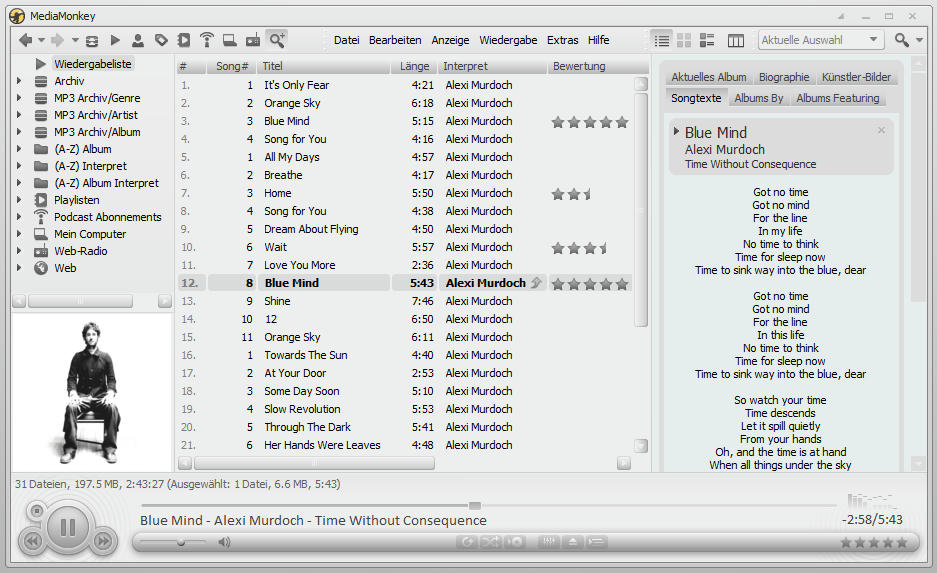 FloatPlayer:

MicroPlayer:
and modified InfoPopUp

Downloads:
3-Pulse.mmip
Pulse Skin for
MM3
!
MR Pulse Tab v 1,0,0,1.mmip
Pulse Tab Skin for MonkeyRok !
Note:
MonkeyRok skin use
Nifty corner stuff
for rounded corners.
I change a bit the layout ,tabs are on top and current album is included the tab section,
to open/close the info panel you have to hit the arrow on left side!
For me it's the ideal layout ,and i hope you like also!

Thanks to Trixmoto , for look inside the files and clean it up , and his great script

When you have any Suggestions for the Pulse Skin ,let me know!
Enjoy!
and have a good start in the new year