Browse the Library
Jump to navigation
Jump to search
Help > Getting Started > Browse the Library
---
Basic Concepts
The main panel contains several tools to navigate your Library. The most visible of these is the Media Tree which contains various nodes that allow you to browse content by Collections, different attributes like Title, Artist and Genre, Podcasts, Playlists, Media Servers, Net Radio, My Computer, CD/DVD Drives and Portable/Audio Devices. To navigate, select and browse by any node, using the mouse or arrows keys, or by typing text. To fine-tune the results, you can use:
The Column Browser to select particular attributes.
The Search bar to search the contents of the selected node or the entire library (configurable).
Column headers to sort by any attribute. Hold the <Ctrl> key while clicking multiple headers to sort by multiple attributes.
Interface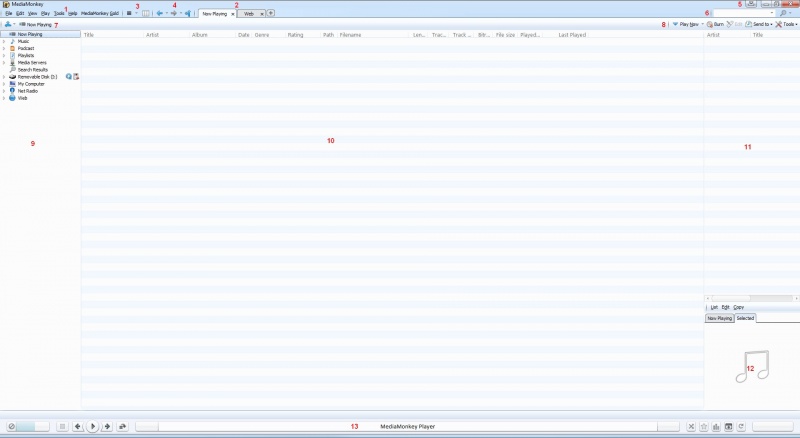 Starting from the top, here's a brief description of the various other functions in the main panel:
The Main Menu allows you to access the various options and features in MediaMonkey. It can be set to auto-hide by disabling View > Main Menu bar.
The Tab toolbar allows you to navigate between the different open tabs. It can be set to auto-hide by disabling Always show the tab bar under Tools > Options > Appearance.
The View toolbar allows you to switch to the Details, Art, Art with Details, Art Browser with Details views and/or enable the Column Browser.
The Shortcuts toolbar quickly brings you to various nodes that may not be visible, or switch back and forth between nodes.
The Player Type button allows you to switch to the MiniPlayer and the MicroPlayer.
The Search toolbar allows you to do a quick search in the Entire Library, active Collection or within the listed files in the Filelisting. Which fields are searched can be changed under Tools > Options > Search.
The Navigation toolbar allows you to view where you are in the Library hierarchy, and change locations.
The Context toolbar gives access to important features related to the node viewed.
The Media Tree gives access to the different sections like Collections and Playlists.
The Filelisting shows you all the files pertaining to the selected node in the Media Tree or the internet browser.
The Now Playing window displays the currently active playlist.
The Art & Details window shows art for the selected or currently playing file (configurable).
The Player displays the currently playing Media File.
The Status bar under the Filelist shows information about currently selected or playing Media File(s), along with status information about any ongoing background activities. Any background activities can be terminated, or increased/decreased in priority by right-clicking on the Status bar.
Notes
Most Toolbars can be enabled/disabled by right clicking on a Toolbar.
Most Windows can be enabled/disabled from the View menu in the Main Menu.
The Media Tree was known as Explorer Tree in MediaMonkey 3 and older.
The Column Browser can be enabled by enabling View > Show Column Browser.
Related Information

Previous: Adding Existing Files to the Library
Next: Playing Files

Additional Help: Knowledge Base | Forum | MediaMonkey Support | MediaMonkey for Android Help | MediaMonkey 4 Help | MediaMonkey 5 Help