MediaMonkey for Android: Playback
Clicking a track in any view causes that track and subsequent tracks to immediately play. Tracks that have been synced via the MediaMonkey server will include volume leveling information in the database so that volume levels won't go up & down from one track to another (note though, that if tracks aren't synced via MediaMonkey, then volume leveling information will not be in the MediaMonkey for Android database, and tracks will not play at level volume).
You can also initiate playback via:
Quick Shuffle: to play all the tracks in the current view in random order
Play: to play selected tracks immediately
Play last: to play selected tracks after currently playing tracks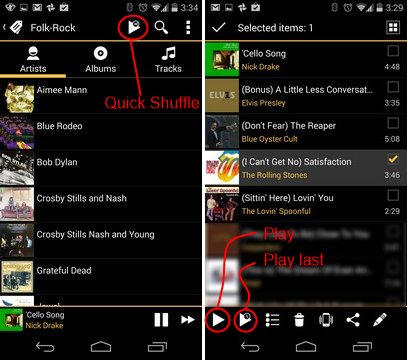 When you initiate playback of a set of tracks, MMA displays the 'Now Playing' tracks.  Clicking the List/Artwork icons toggles between the individual track and the full list of tracks being played.  The list view is most useful for viewing and re-ordering the tracks to be played.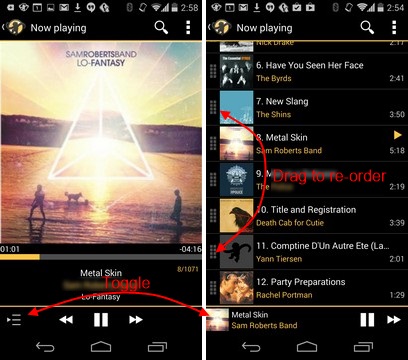 The Now Playing artwork view has a couple of less obvious features, that are accessible after tapping the artwork or swiping.
Rate tracks: these ratings get synced back to the MediaMonkey server when syncing.
Shuffle tracks: causes tracks to always play in random order.
Continuous play (for a track OR for the entire list of tracks).
View/download lyrics: Swipe Artwork right to left.
Change track (forward/back): Swipe title in either direction.
Seek within a track: Press and hold prev/next to go back/forward.