MediaMonkey for Android: Playback
Clicking a track in any view causes that track and subsequent tracks to immediately play. You can also use:
Quick Shuffle: to play all the tracks in the current view in random order
Play: to play selected tracks immediately
Play last: to play selected tracks after currently playing tracks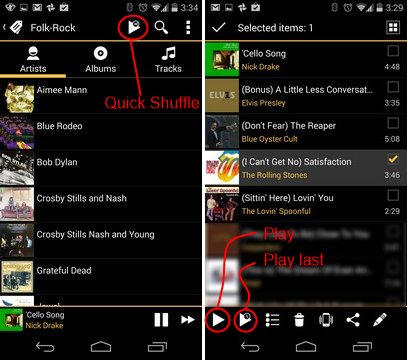 When you initiate playback of a set of tracks, MMA displays the 'Now Playing' tracks.  Clicking the List/Artwork icons toggles between the individual track and the full list of tracks being played.  The list view is most useful for viewing and re-ordering the tracks to be played.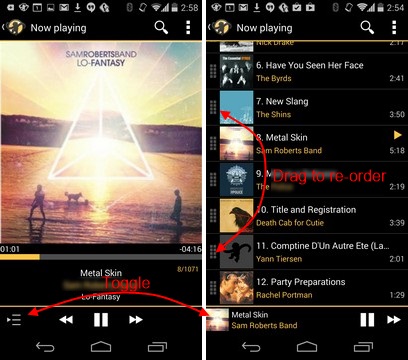 The Now Playing artwork view has a couple of hidden features.  Tapping the artwork allows you to:
1) Rate tracks: these ratings get synced back to the MediaMonkey server when syncing.
2) Shuffle tracks: causes tracks to always play in random order
3) Enable continuous play (for a track OR for the entire list of tracks)