Sync MediaMonkey with a Zune
About
With the recent release of the zAlternator hack from Zune Boards, it has become possible to synchronize the Zune with Mediamonkey (as well as Winamp, Windows Media Player, iTunes, etc..).

This guide is meant to explain how to use this hack from start to finish to synchronize the Zune with Mediamonkey's library.


Note: This method DOES NOT work with the new 3.0 firmware. The last firmware version known to work with this method is version 2.5.
Limitations
This work-around is not for the faint of heart and currently has some limitations:
-It appears that wireless synching is not allowed
-Multiple hacks are required to synchronize, including a registry hack. One hack must only be made once, but a second hack must be used on each synchronization (assuming your computer has been rebooted since last sync)
Note: This method DOES NOT work with the new 3.0 firmware (or greater). The last firmware version known to work with this method is version 2.5.
Necessary components
-zAlternator
-Zune external hard drive hack
-Zune software must be installed
-A video to sync to your Zune
-Mediamonkey (obviously)
Optional Components
Before you start
-Make sure you have the necessary components listed above. The external hard drive hack listed above is the one I found easiest to use, but manually editing the registry or any other available hack should work equally as well.
-Make sure Mediamonkey is CLOSED
-Make sure your Zune is DISCONNECTED from the computer
-You may want to remove the music already on your Zune before synchronizing with Mediamonkey. You may have duplicates of all your music if you do not remove the old music. (This can be easily done through the Zune software).
-Mediamonkey cannot synchronize pictures and video, so you will still have to use the Zune software to get these types of files onto the device. Alternatively, you could use Windows Media Player to sync these files using the zAlternator hack in much the same way used in Mediamonkey.
Instructions
zAlternator preparation
Open the zAlternator and make sure it is set to Zune (Default). Click apply, then close it. If you are asked to select a firmware version, you are most likely using the 2.0 - 2.3 version unless you never downloaded the new Zune 2.0 updates for the software.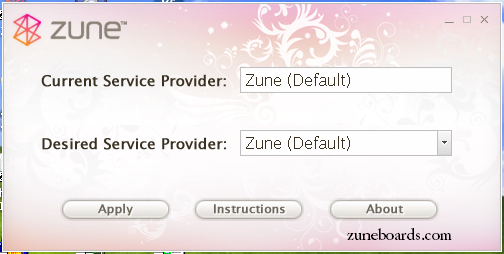 Opening connection with the Zune
1. Connect your Zune and open the Zune software (it will usually open automatically.) Navigate to your "Videos" tab.
2.Choose a video and synchronize it with your Zune. Quickly use Ctrl+Alt+Delete and open the task manager. Navigate to the Processes tab and end the process 'Zune.exe' before it has completed being copied to the Zune.
Alternatively, you could run the KillZune.exe while the video is sync'ing to end the process

Preparing your Zune to sync with MM
With the Zune software closed, your Zune will still say "Syncing..." on the screen. This is normal. Open the zAlternator again. Change the "Desired Service Prover" entry to "Generic WPD" and Apply. Close zAlternator.

MM configuration
Now, open Mediamonkey. Wait a few moments for it to load up and load the Zune into the tree on the left.
Open the device configuration options for the Zune, and configure what files you would like to be synced. You can use filters, sync music only from playlists, sync all of your music, or sync a random selection of music up to the device capacity (if you have enough music).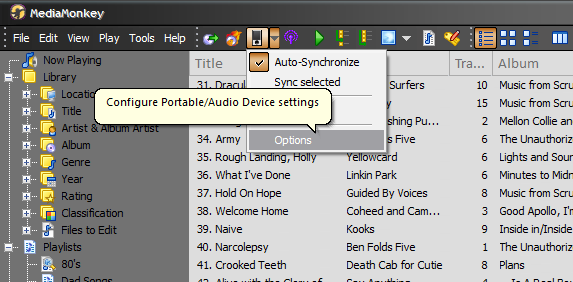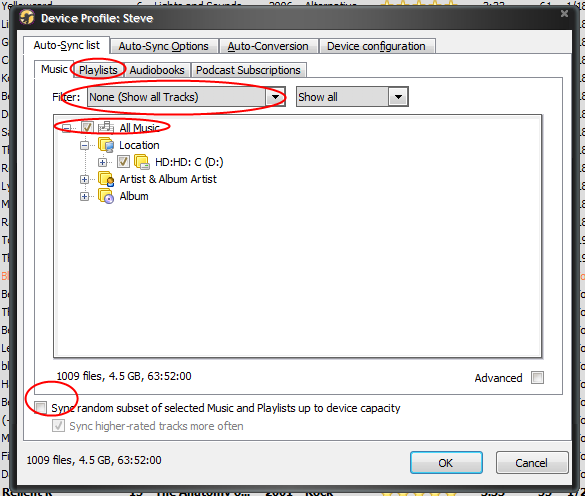 Playlist/track configuration
Be sure to use the mask: \Music\<Album Artist>\<Album>\<Track#:2> <Title> in the "Sync tracks to:" field. This will ensure that MM won't resync your entire collection each time you sync. Instead, only tracks that have been edited since the last sync will be updated, as well as new tracks.
If you want to copy playlists to your Zune, set up the "Copy playlists" setting as follows: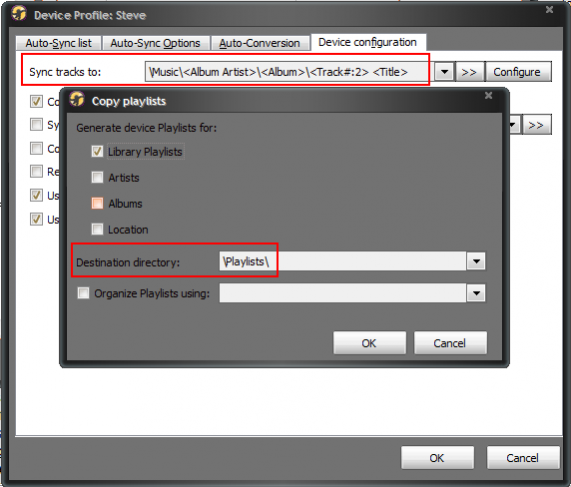 Synchronization with MM
Now just hit the Zune button in the toolbar (right next to the config drop down menu you clicked earlier. Alternatively you can right click and use the Send to -> feature. Syncing works! Songs and album art will be in all of the right places. When you are done, simply disconnect the USB cable from the computer.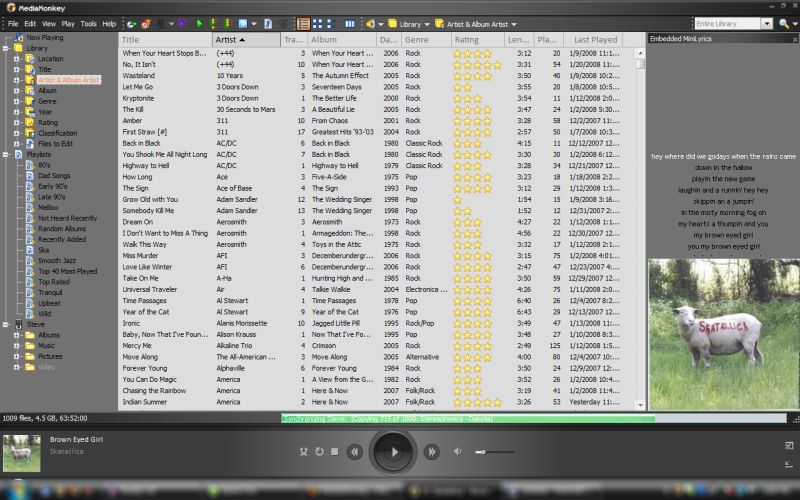 Questions/Troubleshooting
I hope this guide helped someone out there. Should you have any other questions, post them here and I'll answer them if I can.
Special thanks
PityOnU of Zune Boards - for creating and making this hack available for the public
Dizzy of Zune Boards - for creating the MM / Zune sync guide off of which most of this guide is based
Zune Boards - for providing the tools necessary for a Zune community
Wargazm of the Mediamonkey forum - for pointing out that this hack was available
JoeyJoJo of the Mediamonkey forum - for his kill Zune process .exe