Vitreous Skin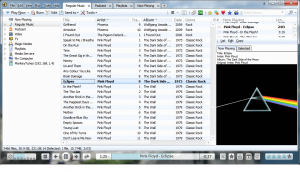 Vitreous is a skin created for MediaMonkey by Stephen Platt. It is the default skin for Mediamonkey as of version 4.0.
For more information, see the skin's forum thread.
Skin information
Information about the skin:
This skin is the first to implement a number of skinning features new to version 4.0, including an aero frame, aero player, full screen video player, stop after current button, tabbed interface, text in seek bar, customizable text in player, and much more.
It features a visualizer spectrum in the Volume Bar, also new to 4.0.
The aero player is partially transparent (even the buttons and seekbar), allowing for a cool effect.
This skin aims to give as much or as little information as is desired, though keeping the aesthetics of a sleek design. The new "Summary format" in the MM options allows the player display to show a number of different fields depending on the type of file being played. Additional information for display can be customized in the new "Art with details" window.
Aero features will only work on Windows Vista or later operating systems, but the skin can be used on older systems without aero.

Where is this skin headed?
The plan is to let this skin evolve with MM4 and it's further improved skinning engine. The following list contains no official information and is subject to change:
Improved art views
More modern context menus and drop downs, to be more consistent with Windows 7
Modernized fonts
Improved tree area with grouping, leading to decreased clutter
Custom skinned grid cursor
And any other enhancements to help modernize the MM UI as they become available