Settings: Fields
Jump to navigation
Jump to search
Wiki Home > MediaMonkey 5 Help > Customizing MediaMonkey > Settings: Fields
---
Under Tools > Options > Fields from the Main Menu you can modify the following settings: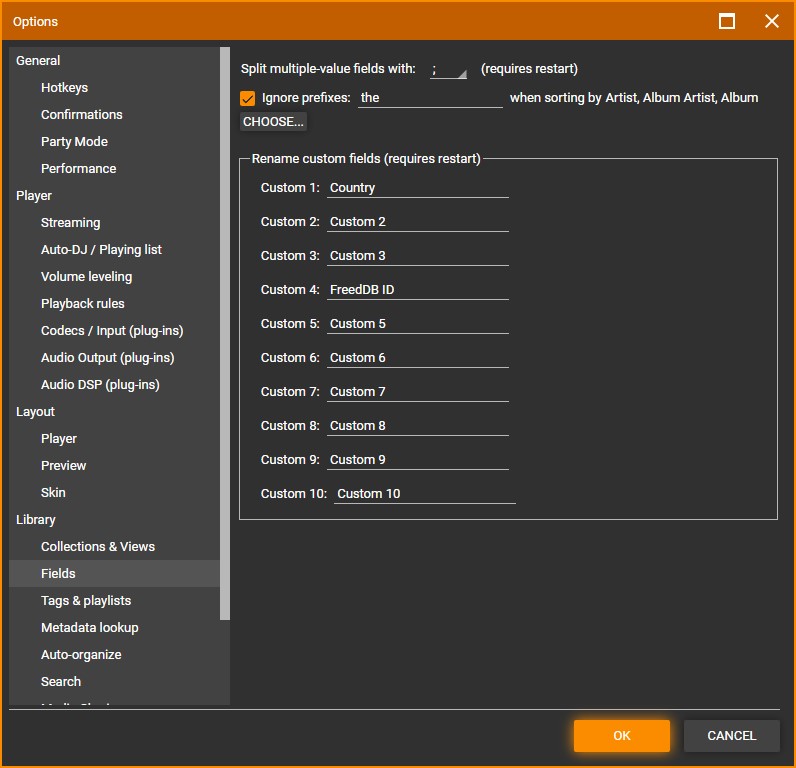 Split multiple-value fields with allows you to set which character you will use within MediaMonkey to separate multiple values and MediaMonkey will use to display multiple values. This setting does not affect how MediaMonkey saves the multi-value to the files tags as this is done according to the tagging standards.
Ignore prefixes allows you to set which prefixes are ignored when sorting in MediaMonkey. Use , to separate multiple prefixes.
Choose allows you to choose for with fields in MediaMonkey ignore prefixes is applied.
Rename custom fields allows you to change the name MediaMonkey displays for the custom field. For example instead of Custom 1 you could have it display Country. These custom values for the Custom fields are stored in the MediaMonkey Database, but not saved as such to the files tags.

Additional Help: Knowledge Base | Forum | MediaMonkey Support | MediaMonkey for Android Help | MediaMonkey 4 Help | MediaMonkey 5 Help