I missed the function "
Append selected songs to the now-playing-list and just play it now
". I have integrated this function in the context menu of the main-tack-list.
The script was very simple and small. Therefore I took it as a base for more functions I missed. For the additional functions I found not a good compact name, so I gave the plugin the name of its first function.
Because I work nearly always with hand-made playlist I wanted to optimise my work with it. Selecting something, group it and quick sort it with the cursor-keys. The functions are integrated in sub-menus of the context-menu of the main track-list: "Selection" and "Moving"
The additional functions are:
1. Selecting:
a. From focused to last or from first to focused
b. All, nothing , invert selection
c. Only last played or all behind to it to continue with the next songs I did not hear
d. Never/ ever played
e. Rating larger/smaller than a special star-value
f. All rated song or songs with missing rating
g. Depend on the current focused song, select all with the same Album, Artist or Album-Artist
2. Change the track order with the usual windows hotkeys (only for manual playlist)
a. Move songs up/down one position (Ctrl-Up/Down)
b. Move songs a "page" up/down. (Ctrl-PageUp/Down). You can configure the increment
c. Move song to top/end of the list (Ctrl-Home/End)
d. For a selecting with gaps in it you can remove the gaps and group it together (up or down).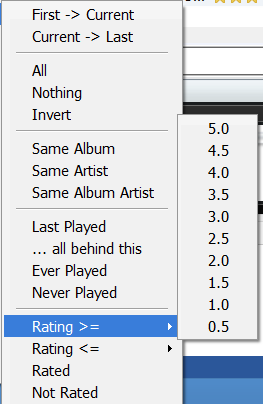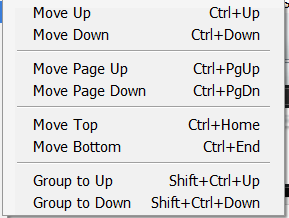 The plugin has some problems/restriction in the moving-function: Take a look on my web-page (link in the footer).