Guide to ipod sync
Jump to navigation
Jump to search
About
This guide is intended to guide a user through syncing any Apple portable device including all iPod versions including the iPod touch, iPhone, iPod shuffle, and iPod nano.
Following the steps below will allow you to sync your music from MediaMonkey to your device while allowing you to continue to use iTunes to sync your picture and video without interfering with any of your music files.
Album art and lyrics will be synced correctly for all iPod versions that support those features, and ratings as well as playcounts should be synced back to your MM database when Auto-synchronization is used.
This guide was written using an iPhone as an example but it is mainly the same for other iPods, although there are different plugins depending on your iPod model. Any differences will be explained in more detail later on.
Related Information:
How to copy / backup music from an iPhone or iPod
Necessary Components
MediaMonkey version 3.2.0.1294 or later
iTunes version 8.2.1 or later with Quicktime (or Quicktime lite)

It is possible to sync certain iPods without iTunes installed. The iPod touch, iPhone, iPod classic, and iPod nano 3rd/4th generation all require certain iTunes components to be installed to sync to them. These files are usually located at C:\Program Files\Common Files\Apple\Mobile Device Support and you could uninstall iTunes as long as you kept the files at the location above. However, there are disadvantages to not keeping iTunes – for example, you can't update the device firmware or restore it without iTunes. You will also not be able to sync pictures or video without iTunes since MediaMonkey currently does not handle these file types.

iTunes comes with the device driver for iPhone/iPod Touch that is required by many third-party media players to detect and access the database of the iPhone. As soon as you install iTunes, you will be able to use Media Monkey to sync your music.
For those who don't want to install iTunes, there is a hack:

1. Download the iTunesSetup.exe (or iTunes64Setup.exe is you're using 64-bit) file
2. Rename the .exe to .msi
3. Get 7-Zip to extract only what you need from the iTunes installer archive.
4. Open up the zipped file (right click 7-zip -> Open Archive, open .rsrc directory) and extract AppleMobileDeviceSupport.msi (AppleMobileDeviceSupport64.msi for 64-bit), and QuickTime.msi (Quicktime lite recommended instead)

4.1 iTunes v9.1 - In the .rsrc directory, opend the RCDATA directory and extract the CABINET file. Rename it to amds.cab, open that file again with 7Zip, and then extract the .msi files as above.

5. Install these files.
You can then sync your iPod with Media Monkey without iTunes.
UPDATE: The above "hack" is no longer necessary. You can install the needed drivers for your iPod Touch, iPhone, or iPad by using the Copy Trans Drivers Installer. It is a free product from the makers of Copy Trans Manager, and it can be found here:
http://download.cnet.com/CopyTrans-Drivers-Installer/3000-18546_4-75300288.html?tag=mncol
WARNING: If using the CopyTrans Drivers Installer product with any iTunes installer from version 10.5 upwards then you will need to install Quicktime manually (if it isn't already installed on your system), without Quicktime installed the MediaMonkey iPod/iPhone plugin will not operate correctly. From iTunes 10.5 onwards Apple no longer bundles Quicktime as part of the iTunes installer (see http://support.apple.com/kb/TS3772 for details). As of V1.013 the Copytrans Drivers Installer product does not warn you if it cannot find/install Quicktime from the iTunes installer set being used.
iTunes configuration
Bring up the iTunes preferences under Edit -> Preferences, and go to the "Devices" tab. Check "Disable automatic syncing for all iPhones and iPods".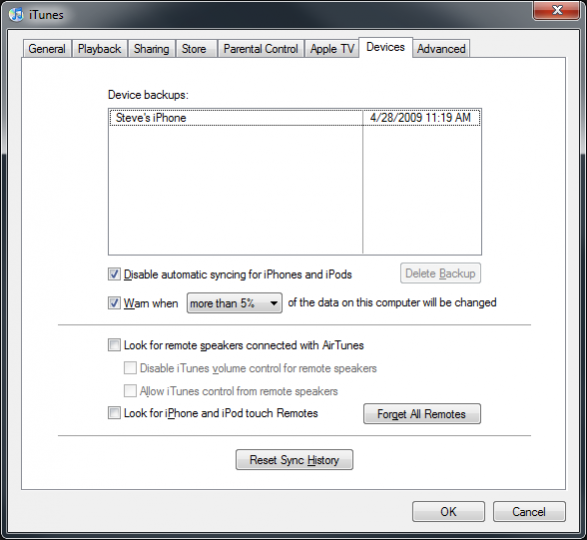 Next click on the "Playback" tab and disable Sound Check. This will prevent iTunes from modifying tracks on your iPhone and corrupting Album Art.
Summary tab
Follow these steps to disable music syncing with iTunes so that it does not interfere with any music synchronized with MediaMonkey, and also to allow you to freely update pictures and/or video files.
First, open iTunes, making sure that your device is plugged in to your computer. Click to your device in the left hand tree under 'Devices' in iTunes.
Uncheck "Automatically sync when this iPhone is connected" and "Sync only checked songs and videos". Leave "Manually manage music and videos" checked as below: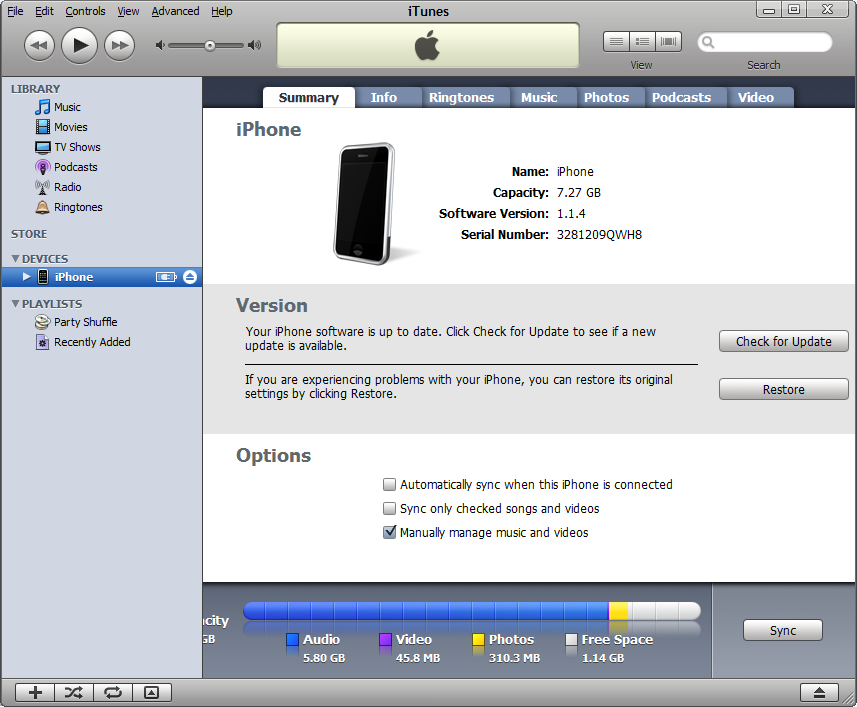 Music tab
Uncheck "Sync music" as below
Pictures tab
Check "Sync photos from:" and choose the applicable options for you. Alternatively, you could leave this unchecked (to not sync any photos). Note: This will not have any affect on your music's album art.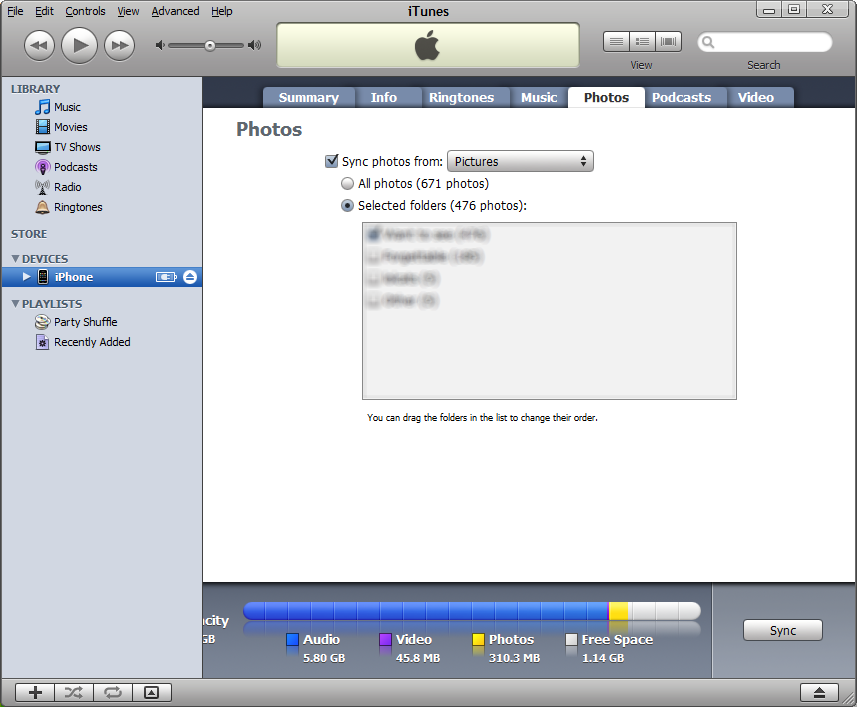 Podcasts tab
Uncheck "Sync all unplayed episodes of:" as below. MediaMonkey can catch and sync podcasts on its own.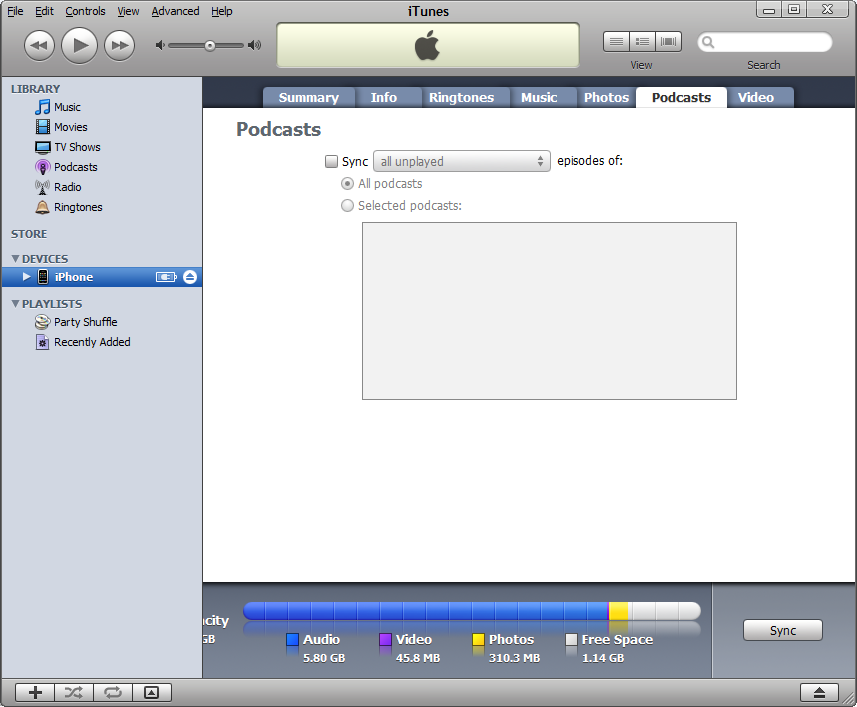 Video tab
Uncheck the "Sync TV shows" and "Sync Videos". Videos will have to be dragged from iTunes to the iPod entry in the tree on the left hand side of the iTunes screen.
MediaMonkey configuration
With your iPod still plugged in, go to the device configuration for your device within MM, accessible as shown below: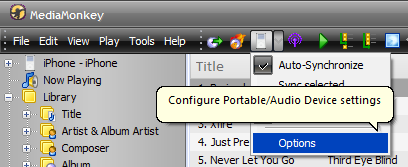 Auto-Sync list tab
This is the most configurable part of the syncing process. Depending on your iPod model, you may or may not want to sync all of your music/podcasts/audiobooks. Decide what you want to sync to your iPod and review each tab to make sure your settings are correct. You can use filters, sync music only from playlists, sync all of your music, or sync a random selection of music up to the device capacity (if you have enough music).
Auto-sync options tab
Check that the "Delete tracks that aren't on the auto-sync..." box is checked as well as the "Confirm deletion" boxes are checked within this tab, as shown below. An option for you is whether you would like MM to sync to the device as soon as it is plugged in. If so, check the top box. If not, leave the box unchecked and MM will sync only when you tell it to.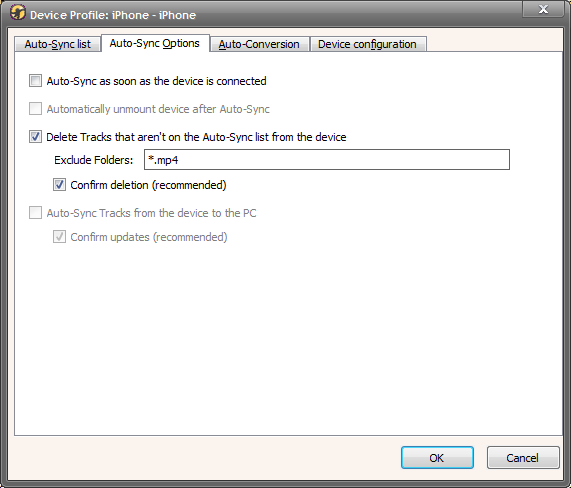 Device configuration tab
Match your settings to the settings shown below for maximum compatibility with iPod devices: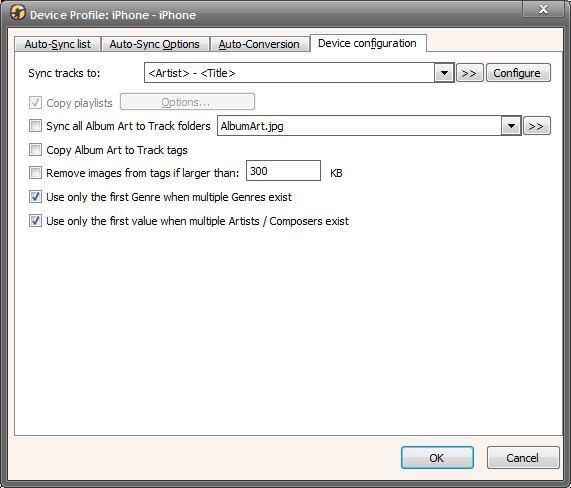 When using an iPod rather than an iPhone or iTouch, there will be an option to "Force iTunes style folders". This should be checked.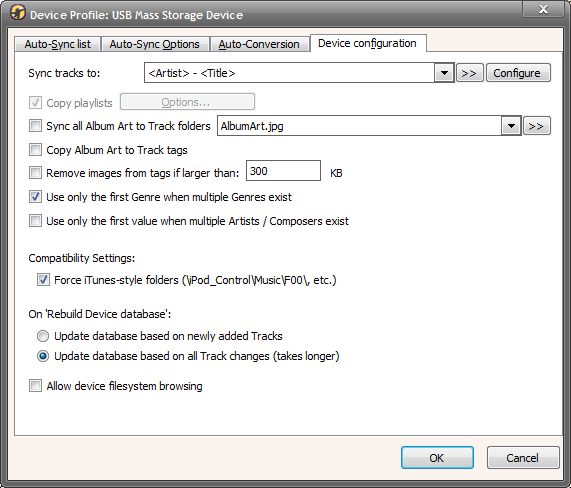 Synchronization with MM
Hit the iPod button in the toolbar (right next to the config drop down menu you clicked earlier. Alternatively you can right click and use the Send to -> feature, though with "Send to" you risk not retaining your playcounts and ratings being synced back, as well as doubles showing on your iPod.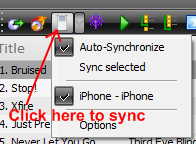 More info
This guide may be incomplete. Please see these other resources for more information:
Questions/troubleshooting
I hope this guide helped someone out there. Should you have any other questions, post them here and I'll answer them if I can.