Glided Skin
Jump to navigation
Jump to search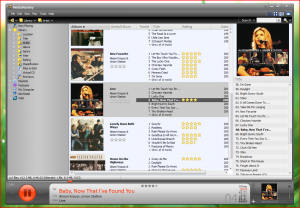 Glided is a skin created for MediaMonkey 3 by Morten. It was the default skin from MediaMonkey 3.0 Alpha 5 through MediaMonkey 3.2.6.
For more information, see the skin's forum thread.
Skin information (by Morten)
Information about the skin:
This skin is a collaboration between me (graphics) and Petr (coder of the skinning engine).
It features a cool L/R-visualizer in the Volume Bar. This will automatically resize according to the position of the volume slider.
Also pretty dominant is a spectrum analyzer in the information panel.
This skin aims to give a lot of information, though keeping the aesthetics of a sleek design.
Vista is it's main look-form.

Where is this skin headed?
The plan is to let this skin evolve with MM3 and it's further improved skinning engine. The following list contains no official information and is subject to change:
Real Vista-compatibility: menus, dialogs, dropdown menus, ... in Vista-style when you're using Vista, and XP-style when you are using XP. (Depending on native support in MM)
There is currently a big empty area if you're using a high-resolution screen. It will most likely be used by an area where you can switch between a playlist-viewer (custom) and a lyrics viewer.
The Album Art area and other panels will be polished with overlays.
Having an alternate (smaller) player and other miniplayers.
Other enhancements made possible by the developing of the skinning engine.