Burning Audio CDs
Jump to navigation
Jump to search
Wiki Home > MediaMonkey 5 Help > Sharing Content and Data from your Library > Burning Audio CDs
---

MediaMonkey can burn an Audio CD of audio files in your MediaMonkey Library. Audio CD's are measured in minutes instead of file size. Try selecting a selection of files with a duration less than the stated duration capability of the disc you're burning. Use right click Send to > Audio CD (Burn) on selected files to start burning selected files as an Audio CD. Click Burn when you're ready to burn.
Burn Settings
The Burn dialog has the following settings for burning an Audio CD.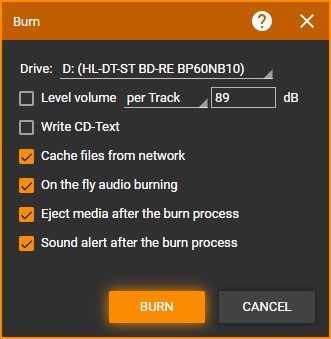 Drive, select which drive should be used to burn the Audio CD.
Level volume allows you to have files burned leveled per track or album to the set volume value.
Write CD-Text will write CD Text for supported drives (few drives support this).
Cache files from network will cache the files to be burned locally so network problems don't corrupt the burn.
On the file audio burning will convert files as the CD is being burned. Disable this option if you have failed burns.
Eject media after the burn process will eject the disc after MediaMonkey completes burning it.
Sound alert after the burn process will give an audible alert after MediaMonkey completes burning the disc.

Additional Help: Knowledge Base | Forum | MediaMonkey Support | MediaMonkey for Android Help | MediaMonkey 5 Help | MediaMonkey 4 Help