Online Lookup of File Information
Jump to navigation
Jump to search
Wiki Home > MediaMonkey 5 Help > Editing Files > Online Lookup of File Information
---
Auto-Tag

If you have media files that are missing information or Artwork, you can lookup the information online and import the missing information by using Tools > Auto-Tag from the Main Menu on selected files. Use this tool with caution, once it tags your media files there is no undo.
Auto-Tag Settings
Under Tools > Options > Metadata lookup from the Main Menu there are settings that control how Auto-Tag looks up media file information.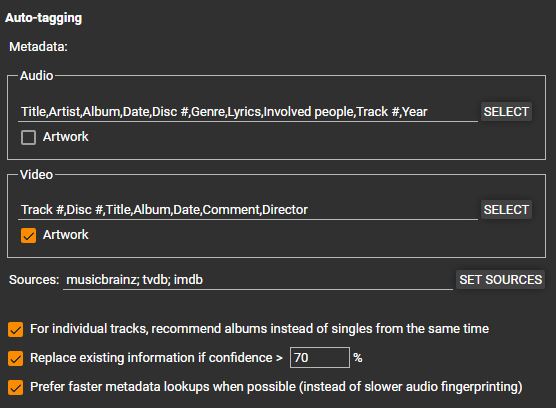 Metadata allows you to set which tags are updated by Auto-Tag for Audio files and Video files. You can also enable/disable if Artwork is tagged by Auto-Tag.
In the Choose fields dialog accessed by using Select you can both choose the fields to be looked up as well as the order of the columns in the Auto-Tag window (Album Summary is in a fixed first position).

Year and Date both update the Date field. You can use either, but not both at the same time. Year will just tag the year part of the date, whereas Date will tag the full date if available.

Sources allows you to enable/disable sources Auto-Tag can use to find information on your media files.
For individual tracks, recommend albums instead of singles from the same time will prefer matches from full albums instead of single releases when matching files.
Replace existing information if confidence xx% will only replace any tag in your media files if the confidence of the match exceeds the percentage set.
Prefer faster metadata lookups when possible (instead of slower audio fingerprinting) will use tags you have in the files first, then use Audio Fingerprinting if it can't find a match. As Audio Fingerprinting takes longer this can speed up how long matching of files takes, but relies on the accuracy of your tags. Use Audio Fingerprinting when you're not sure about the accuracy of your tags.

The MediaMonkey Codec Pack will be required for audio fingerprinting of audio file types supported by the MediaMonkey Codec Pack.
The Auto-Tag dialog has 1 setting.
Allow compilations which will allow files to be matched to compilation albums.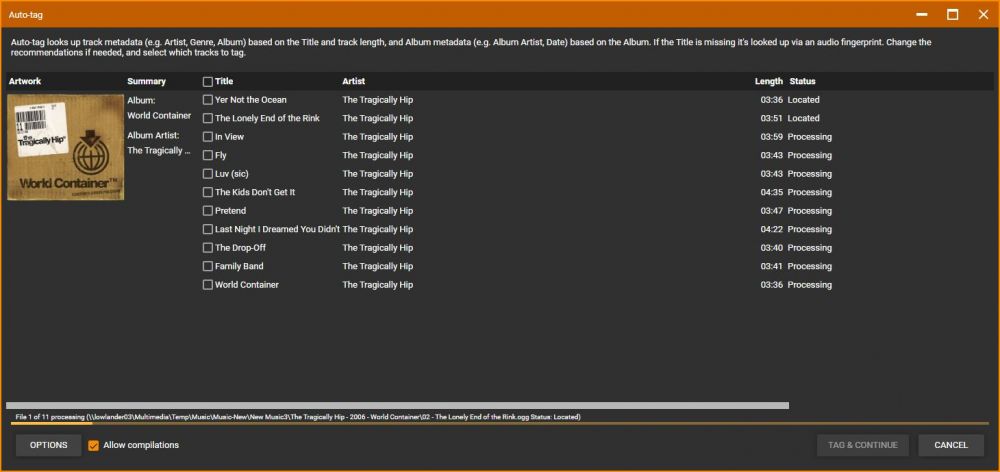 Using Auto-Tag
To use Auto-Tag, select media files in MediaMonkey and use Tools > Auto-Tag to have Auto-Tag look for tags for the files. Select which files to save the found tags for using the checkboxes in the Title column and click Tag & Continue, once Auto-Tag finishes processing all selected files.
Auto-Tag becomes more accurate when using Various Artists as value for Album Artist for compilation Albums.
You can hover over any tag highlighted to be changed to view the old and new value in a tooltip for comparison.
You can click on any displayed tag to see if any alternatives are available, select the old value if you don't want it changed or find more results for it. This will also allow you to manually edit tags.
Auto-Tag will Auto-Tag files in sets of 100 files (with MediaMonkey Gold) or 20 files with the free version.
Auto-Tag with Video Files
Video Files don't use fingerprinting and require some tags to be known before using Auto-Tag:
Auto-Tag for TV shows and requires Series, Episode# and Season# to be tagged correctly before using Auto-Tag.
Auto-Tag for Movies requires Title to be tagged correctly with the Movie name before using Auto-Tag.
Tip: You can use Auto-Tag from Filename to get tags from folder/filenames to video files.
Artwork lookup
MediaMonkey can be used to manually lookup Artwork for your media files. In the Properties dialogs Artwork tab you can use Lookup image and a new window will open with results found online. Select the best match and click Apply.
Note: You can manually search for artwork by entering a search term such as "<Album Artist>"+"<Album>" in the dialog (use quotes for an exact match).
Lyrics lookup
MediaMonkey can be used to manually lookup Lyrics for your media files. In the Properties dialogs Lyrics tab you can use the search button and a MediaMonkey will look for Lyrics online. If the found Lyrics aren't correct you can use the search button again to search on an alternate source. Under Tools > Options > Metadata lookup you can select which sources should be used for Lyrics lookup.
Lookup Commercial Audio CD Information
Whenever a new Audio CD is inserted, information about the CD is automatically looked up in the MusicBrainz database. If there's a direct match to your CD, the information will automatically appear, and if there are multiple matches, you'll be prompted to select the correct Album from several options.

Under Tools > Options > Metadata lookup from the Main Menu you can switch what source is used for online lookup.
Database MusicBrainz with Server name musicbrainz.org is the default.
Database Freedb (CDDBP) or Freedb (HTTP) with Server name mb.mediamonkey.com allows you to access the old Freedb database now hosted by MediaMonkey. Do note that Freedb has closed and that the database only contains what Freedb had when they closed. For new content you'll need to use MusicBrainz or an alternative Freedb server that is being updated (we don't know of any).
Auto Metadata Lookup
MediaMonkey can automatically lookup missing Artist and Album Artwork, and Lyrics in the background. This can be enabled under Tools > Options > Metadata lookup from the Main Menu.

Lyrics will be looked up when they need to be displayed in the Playing node (set to View Album Art or Lyrics, the Preview window (with Lyrics enabled) or the Lyrics window.
Artist images will be looked up when they're displayed in the Filelisting.
Artwork will be looked up when it needs to be displayed in the Preview window.
Note, When you use Views that contain an 'Info Panel' (i.e. live lookups of a description and artwork about Artists, Albums, etc.), then Artwork will be looked up regardless of your lookup settings. This artwork is cached and will appear as 'Unsaved artwork' in the file properties in MediaMonkey.

Additional Help: Knowledge Base | Forum | MediaMonkey Support | MediaMonkey for Android Help | MediaMonkey 5 Help | MediaMonkey 4 Help