MediaMonkey Gold Features
Jump to navigation
Jump to search
Wiki Home > MediaMonkey 5.0 Help > Introduction > MediaMonkey Gold
---
Registering your License
To unlock the Gold features in MediaMonkey you need to enter your License. Use MediaMonkey Gold (only shown when using the free version) from the Main Menu to enter your License. Help > About from the Main Menu will show what License you're using. Make sure to copy & paste both the License Username (usually full name) and License Key exactly as provided (both are case-sensitive).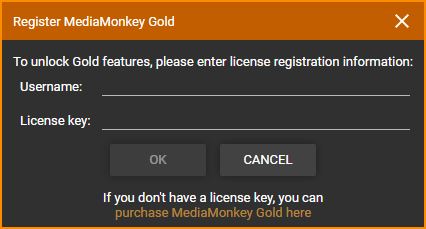 Gold Licenses
MediaMonkey offers two types of Licenses:
A version License which is only valid for all releases of that version. So a 5.x License is valid for all releases of MediaMonkey 5, including 5.0.1, 5.1, 5.2, etc., but not 6.0.
A Lifetime License, which is valid for the current version of MediaMonkey and future versions of MediaMonkey. So a Lifetime License is valid for MediaMonkey 5, 6, etc.
Gold Features
The standard version of MediaMonkey is free for personal use, however, the more advanced Gold version adds a range of functionality for more serious collectors. Some of the added features included with MediaMonkey Gold are:
For more information visit: MediaMonkey Gold Information or Buy MediaMonkey .
Notes
The License Username and License Key are case sensitive.
The License Username will be provided along side the License Key. It usually is your full name and not the forum/support or purchase site username.
Only a 5.x or Lifetime License will work with MediaMonkey 5.
You can lookup your License as described here: Knowledge Base: Retrieve a Lost License Key

Additional Help: Knowledge Base | Forum | MediaMonkey Support | MediaMonkey for Android Help | MediaMonkey 4 Help | MediaMonkey 5 Help