Settings: General
Jump to navigation
Jump to search
Wiki Home > MediaMonkey 5 Help > Customizing MediaMonkey > Settings: General
---
Under Tools > Options > General from the Main Menu you can modify the following settings: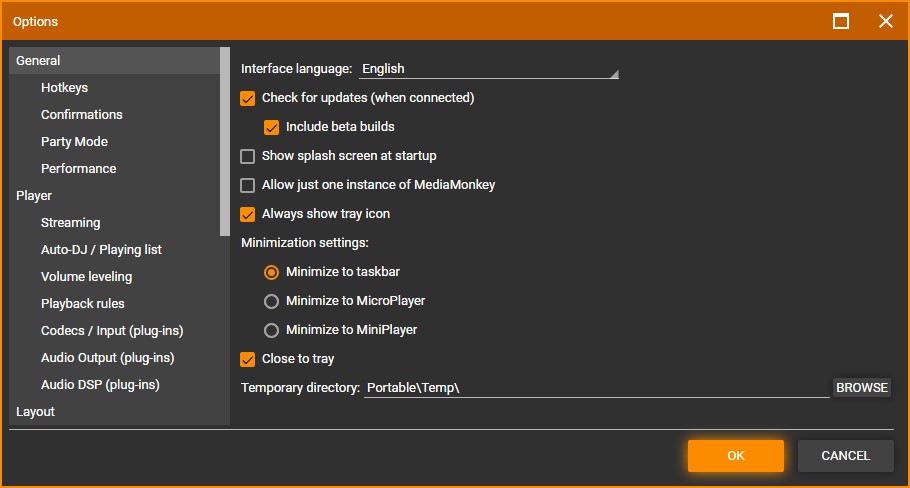 Interface language allows you to select a different language for the MediaMonkey interface. Most languages will need to be downloaded by MediaMonkey and MediaMonkey will restart. Collections names are not changed by a change of language.
Check for updates will check online if a new release of MediaMonkey is available to update MediaMonkey. With Include beta builds also checked MediaMonkey will also check for any new beta release.
Show splash screen on startup will show a splash screen before the main MediaMonkey interface is loaded.
Allow just one instance of MediaMonkey will prevent the launch of additional MediaMonkey windows. This can interfere with multiple installations that you do want launched simultaneously.
Always show tray icon makes sure that the MediaMonkey is always shown in the Windows Tray in the Windows Taskbar.
Minimization settings allows you to choose what happens when you use the Minimize button. You can have MediaMonkey Minimize to taskbar like other software, or have MediaMonkey switch to the MicroPlayer or MiniPlayer.
Close to tray will have MediaMonkey close to the Windows Tray in the Windows Taskbar instead of closing MediaMonkey. You can use File > Exit from the Main Menu when you want to close MediaMonkey.
Temporary directory allows you to set where MediaMonkey stores temporary files on your PC.

Additional Help: Knowledge Base | Forum | MediaMonkey Support | MediaMonkey for Android Help | MediaMonkey 4 Help | MediaMonkey 5 Help