Installing MediaMonkey
Jump to navigation
Jump to search
Wiki Home > MediaMonkey 5 Help > Getting Started > Installing MediaMonkey
---
Downloading
You can always download the latest version of MediaMonkey from the Download page. The download is the same for both Gold License and Free version users. Entering your License will unlock the Gold features.
Installing
After downloading MediaMonkey double click on the downloaded installer to start the install process. This process is the same for a first time install or for installing an upgrade.
Install Wizard steps:
Destination Folder, allows you to choose to do a Portable Install instead of a regular install and define in which folder MediaMonkey should be installed.

It is not recommended to do a Portable Install in the Program Files folder due to Windows restrictions on this folder.
| | |
| --- | --- |
| | Portable Install is an installation in which all files associated MediaMonkey (the app, registry & settings, database, addons, temp & cache folders, and podcasts) reside in the folder where MediaMonkey is installed. The benefit is that such an installation can be made to external/USB storage devices and can be used on multiple computers (especially if media files are also stored to the device). Portable installs are also helpful for testing multiple versions of an app without affecting other installed versions. |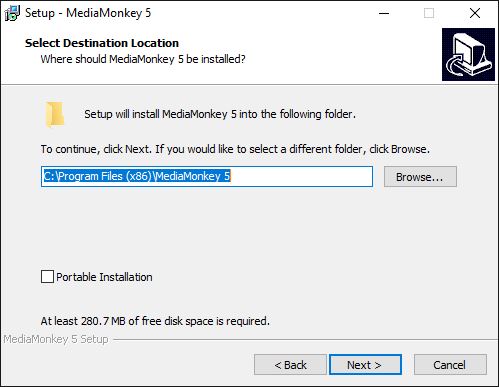 Installing, will show you the installation progress.
MediaMonkey Initial Setup Wizard
Running MediaMonkey for the first time will show you the Initial Setup Wizard, which will allow you to register your License, set file associations and scan your PC for Media Files. Any of the settings set in the Initial Setup Wizard can be accessed in MediaMonkey itself at any time.
Setup Wizard steps:
Welcome to MediaMonkey, the first screen welcomes allows you to select which locations should be scanned. You may want to skip initial scanning if you want to change the settings used for scanning first. Make sure to read the Help on scanning files before scanning. Scanning can be done at any time using File > Add/Rescan Files to the Library from the Main Menu.




Share Media which enables the sharing of your MediaMonkey Library to DLNA capable devices on your local network. Media Sharing is also needed to be able to Wifi Sync to MediaMonkey for Android.




Registration, allows you to enter your MediaMonkey Gold License Key if you purchased a License.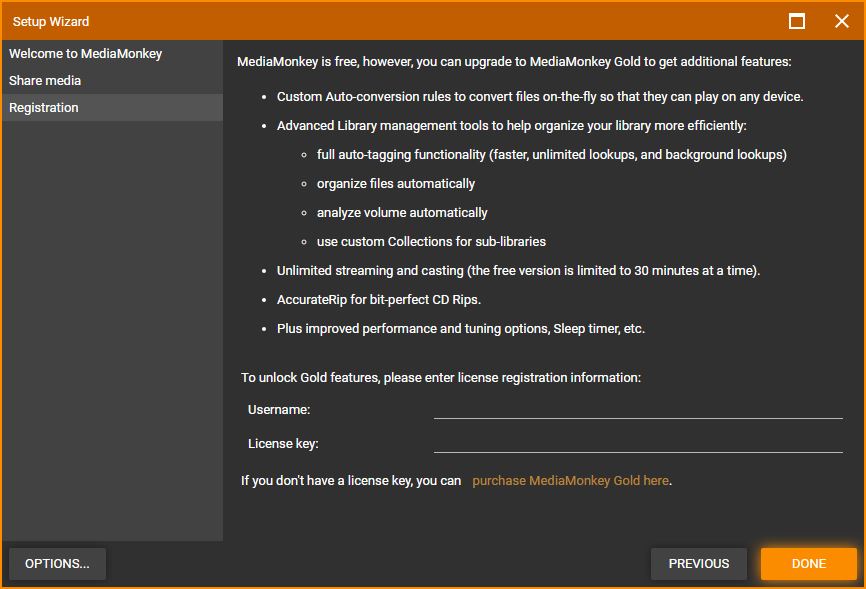 Select Done to finish the Setup Wizard.

When you enable the Media Server you may see a Windows Defender or other Firewall message asking permissions for MediaMonkey to communicate on the network. This is required for MediaMonkey Media Server to work. In most cases it's best to only allow this for private networks.




If you have MediaMonkey Server running you'll be shown a Migration Wizard.
Updating MediaMonkey
To update your MediaMonkey install download MediaMonkey and install it in the same location you want to update. Your settings and library will be maintained during an upgrade.
MediaMonkey 5 Updates
MediaMonkey 4 to MediaMonkey 5 Update
Uninstall MediaMonkey
MediaMonkey can be uninstalled through the Windows Control Panel. This will uninstall MediaMonkey from your system, but will leave some MediaMonkey user files like the database on your system. You can remove those by doing a full uninstall. Portable Installs of MediaMonkey can be uninstalled by deleting the folder where the Portable Install is installed.
Notes
Related
---
Previous: Getting Started
Next: Adding Existing Files to the Library
---

Additional Help: Knowledge Base | Forum | MediaMonkey Support | MediaMonkey for Android Help | MediaMonkey 4 Help | MediaMonkey 5 Help