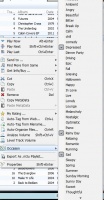 This script helps you to quickly tag your custom fields. In the context menu of the selected tracks, for the fields where this is enabled in the options, you get a list with possible values from which you can select. You can (dis)allow the use of multiple values per field. Values that are not yet used can be added manually to the field, as the selection list is dynamically updated and shows only values that are used in MM.
By Ruben Castelein
Submitted by Steegy
Updated 03/02/2012
Version History / Details
9548 Downloads
Version History / Details
Version:

Updated:

03/02/2012

Size:

4.8 KB

License:

Freeware

Works with:

Media Monkey 4.0 - 4.9

Changes:

Added some additional fields.