Search
This script adds the option to loop through the selected tracks, adding all the tracks in the album of each one to the end of the Now Playing list. There is also the option to automatically create a playlist of the enqueued tracks as well.
By Rik Lewis
Submitted by trixmoto
Updated 03/02/2012
Version History / Details
3596 Downloads
Version History / Details
Version:

Updated:

03/02/2012

Size:

2.44 KB

License:

Freeware

Works with:

Media Monkey 3.0 - 4.9

Changes:

Fixed the tracks not being added in the correct order.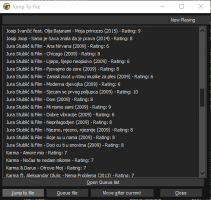 Script for Media Monkey that simulates Winamp jump to file option with few extra options.
With this script you can search within entire libary, nowplaying list or any local playlist, play selected song and you can make your on queue list.
You are not limited only on your local database, with this addon You can easy download songs from. Youtube.
By Danijel Soka?
Submitted by kacso
Updated 22/09/2015
Version History / Details
4966 Downloads
Version History / Details
Version:

Updated:

22/09/2015

License:

GNU GPL v3

Works with:

Media Monkey 4.0 - 4.1

Changes:

Add to queue list from any song list (playlist, entire library, now playing etc.)
Keyboard control improved (On opening dialog, cursor is in input box; Navigate with up/down key in list box even when input box is active)
Youtube download improved
More fluent playing queued songs