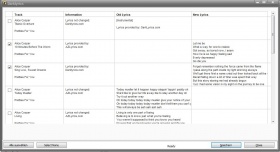 First and foremost this Script search for Metal / Rock / Punk Lyrics and add them to the tracks. But many Pop Songs can be found, too.
One feature is the matching between the (possibly) existing lyrics and the new lyrics found on one of the sites. If the lyrics are unique, you can compare them and choose your favourite lyrics. You can editing the lyrics before adding them to the songs, too.
The Lyric Sites are :
www.darklyrics.com
www.metal-archives.com
www.azlyrics.com
www.plyrics.com
www.magistrix.de

I used the code from Lyricator 0.9.6b and Lyricator V1.1.3 (big thx go out to thehammer !) for this script.
See Forum Thread http://www.mediamonkey.com/forum/viewtopic.php?f=2&t=73643

Please report bugs, wanted features... And rate this script, thank you !
By crap_inhuman
Submitted by crap_inhuman
Updated 30/10/2017
Version History / Details
30315 Downloads
Version History / Details
Version:

Updated:

30/10/2017

License:

Freeware

Works with:

Media Monkey 4.X - 4.X

Changes:

Changes from 4.6 to 4.7 by crap_inhuman in 10.2017

Changed to https for magistrix.de

 
Version:

Updated:

22/08/2017

License:

Freeware

Works with:

Media Monkey 4.X - 4.X

Changes:

Changes from 4.5 to 4.6 by crap_inhuman in 08.2017

 
Version:

Updated:

08/08/2017

License:

Freeware

Works with:

Media Monkey 4.X - 4.X

Changes:

Changes from 4.4 to 4.5 by crap_inhuman in 08.2017

Added http return code 451 (Unavailable For Legal Reasons)

 
Version:

Updated:

20/06/2017

License:

Freeware

Works with:

Media Monkey 4.X - 4.X

Changes:

Changes from 4.3 to 4.4 by crap_inhuman in 06.2017

Changed to https for metal-archives.com

 
Version:

Updated:

30/12/2016

License:

Freeware

Works with:

Media Monkey 4.X - 4.X

Changes:

Changes from 4.2 to 4.3 by crap_inhuman in 12.2016

"Lyric not found"-page from Magistrix.de will now recognized and bypassed

 
Version:

Updated:

12/06/2016

License:

Freeware

Works with:

Media Monkey 4.X - 4.X

Changes:

Changes from 4.1 to 4.2 by crap_inhuman in 06.2016

Bug fixed: The matching between the old and new lyrics should now work

 
Version:

Updated:

02/10/2015

License:

Freeware

Works with:

Media Monkey 4.X - 4.X

Changes:

Changes from 4.0 to 4.1 by crap_inhuman in 10.2015

If searching on PLyrics or AZLyrics german Umlaut characters (ä,ö,ü,ß) in artist and title names will be deleted

If searching on PLyrics or AZLyrics 'The' in artist names will be deleted

Lyrics fetching from Magistrix.de works again

 
Version:

Updated:

09/05/2015

License:

Freeware

Works with:

Media Monkey 4.X - 4.X

Changes:

Changes from 3.9 to 4.0 by crap_inhuman in 05.2015

Bug removed: Selecting no song and starting the script shows an error

Lyrics fetching from AZLyrics works again

 
Version:

Updated:

05/11/2014

License:

Freeware

Works with:

Media Monkey 4.X - 4.X

Changes:

Changes from 3.8 to 3.9 by crap_inhuman in 11.2014

Now the tracks are selected as default (Thanks to Mathijn !)
Version:

Updated:

01/10/2014

License:

Freeware

Works with:

Media Monkey 4.X - 4.X

Changes:

Changes from 3.7 to 3.8 by crap_inhuman in 10.2014

Replace german umlauts (ä,ü,ö with a,o,u) and accent (é,è,á, etc. with e,e,a, etc.) in album and artist for search at darklyrics
Version:

Updated:

21/09/2014

License:

Freeware

Works with:

Media Monkey 4.X - 4.X

Changes:

Changes from 3.4 to 3.7 by crap_inhuman in 09.2014

Now show the lyrics already saved in track too

No java-script needed anymore


Don't save html file (Problem with Win 8.1 ?)


If option 'OnlyEmptyLyrics' not set and Lyrics exists already, the script skip according lyrics and try the next lyrics-page
Version:

Updated:

18/05/2014

License:

Freeware

Works with:

Media Monkey 3.X - 4.X

Changes:

Changes from 3.3 to 3.4 by crap_inhuman in 05.2014

Added Icon to the Toolbar
Version:

Updated:

24/03/2014

License:

Freeware

Works with:

Media Monkey 3.X - 4.X

Changes:

Changes from 3.2 to 3.3 by crap_inhuman in 03.2014

Fetching Lyrics from AZLyrics improved

Fetching Lyrics from DarkLyrics improved

 
Version:

Updated:

21/03/2014

License:

Freeware

Works with:

Media Monkey 3.X - 4.X

Changes:

Changes from 3.1 to 3.2 by crap_inhuman in 03.2014

Lyrics fetching from Magistrix.de works again
Version:

Updated:

17/02/2014

License:

Freeware

Works with:

Media Monkey 3.X - 4.X

Changes:

Changes from 3.0 to 3.1 by crap_inhuman in 02.2014

added Metal-Archives.com for lyric-search
Version:

Updated:

06/02/2014

License:

Freeware

Works with:

Media Monkey 3.X - 4.X

Changes:

Changes from 2.4 to 3.0 by crap_inhuman in 02.2014

Complete rewrite of the script without external Autoit-Script

Now checks for Albumname. If no one found, no DarkLyrics Search will be performed

 
Version:

Updated:

26/01/2014

License:

Freeware

Works with:

Media Monkey 3.X - 4.X

Changes:

Changes from 2.3 to 2.4
  Install-script improved
  cleanlyrics improved
Version:

Updated:

29/12/2013

License:

Freeware

Works with:

Media Monkey 3.X - 4.X

Changes:

Changes from 2.2 to 2.3
    Improved the Lyric detection in the darklyrics part

Changes from 2.1 to 2.2
    Change code to fit the new magistrix.de design
    Bug removed: a '&' sign stopped the xml parser
Version:

Updated:

06/10/2013

License:

Freeware

Works with:

Media Monkey 3.X - 4.X

Changes:

Bug removed: if at darklyrics.com the title was found but have no lyric the script stop with an error
Version:

Updated:

05/09/2013

License:

Freeware

Works with:

Media Monkey 3.X - 4.X

Changes:

Now the script search on 4 Sites (darklyrics.com, azlyrics.com, plyrics.com, magistrix.de) for the tracks

Debug output now in english language
Version:

Updated:

14/07/2013

License:

Freeware

Works with:

Media Monkey 3.X - 4.X

Changes:

First Release. Only for Metal Fans. Search only at DarkLyrics.com