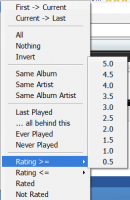 Append seleced tracks to the now-playing-list and just play it now. From this function the plugin got its name but it has much more functions for the main-track-list:
Select all tracks from from focused to the first/last, invert selection, select all ratings smaller/larger than a specific star-value or select all not rated tracks.
Select all with same artist, album, album-artist based on the current focused. Select last played song or all behind this. Select all ever/never played tracks.
In a manual playlist you can move tracks via hotkeys (Ctrl-Cursorblock). Selections with lags you can group quickly in a consecutive order.    
By Andreas Weichert
Submitted by Andreas Weichert
Updated 14/06/2013
Version History / Details
7096 Downloads
Version History / Details
Version:

Updated:

14/06/2013

Size:

12.12 KB

License:

free

Works with:

Media Monkey 4.0.7 - 4.0.7

Changes:

Tested only with 4.0.7 - do not know if it works with other versions.