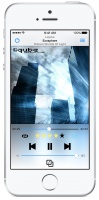 MonkeyMote gives you a full-fledged wireless music remote control for your iPhone, iPod touch or iPad running iOS 5.0 or later and your Android phone running 4.0.3 or later.
It connects to MediaMonkey running on your Windows PC via your WiFi network and allows you to instantly view information about currently playing tracks, control every important playback feature and conveniently browse your complete media library.
Key features
Playback control
Display detailed song information, lyrics and cover art
View and control the current playlist
Browse and search your media library and add songs to your playlists
Load, create and edit playlists in your media library
View and set song ratings
Save multiple connection profiles
Supports both portrait and landscape display modes
User-defined shake gesture actions and remote control support
Automatically reduce volume or pause playback when getting a call
Small, fast, low resource usage
Implemented as a plug-in – no server program clogging up your system tray
Easy to setup and use 
Note: This software is hosted externally. The Lite version only contains a subset of the features in the full version.
By Obsidium Software
Submitted by mmote
Updated 24/03/2012
Version History / Details
15328 Downloads
Version History / Details
Version:

Updated:

24/03/2012

License:

Commercial

Works with:

Media Monkey 4.0