This addon enables links inside the list view, which allow you to see more info online or in your library.
Supported websites: Google, Wikipedia, and YouTube.
The Library link displays tracks with the same artist, album, or title.
By Ventis Media, Inc
Submitted by drakinite
Updated 21/11/2023
Version History / Details
14333 Downloads
Version History / Details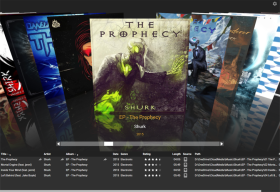 Fast & smooth 3D interface for browsing your music by album. Fully integrated into MediaMonkey 5, including search, now playing, and lots of custom settings. Inspired by MonkeyFlow.
To enable the 3D view, click the Views dropdown on the top-right of the main panel and select 3D Album View. The following nodes are supported for the full-screen 3D view:
Playing
All tracks
Albums
Additionally, in the Artist node when the Browser view is selected, you can enable Albums (3D) in the view dropdown.
Requires WebGL. 
By drakinite
Submitted by drakinite
Updated 18/09/2023
Version History / Details
28916 Downloads
Version History / Details

5211 Downloads
Version History / Details
Version:

Updated:

07/06/2021

Size:

2.41 KB

Works with:

Media Monkey 5.0.0 - 5.0.2