Exporting Playlists
Jump to navigation
Jump to search
Wiki Home > MediaMonkey 5 Help > Sharing Content and Data from your Library > Exporting Playlists
---
Introduction
If you want to share your Playlists or Auto-Playlists with another application, you can do so by exporting them as standard M3U, M3U8, XSPF, ASX or PLS playlist files, which can then be loaded by other media players.
Playlist Export Setting
A single setting is available under Tools > Options > Tags & Playlists from the Main Menu and this is to use Unicode (UTF-8 encoding) to support foreign characters in M3U files. This setting does not affect any other Playlist format.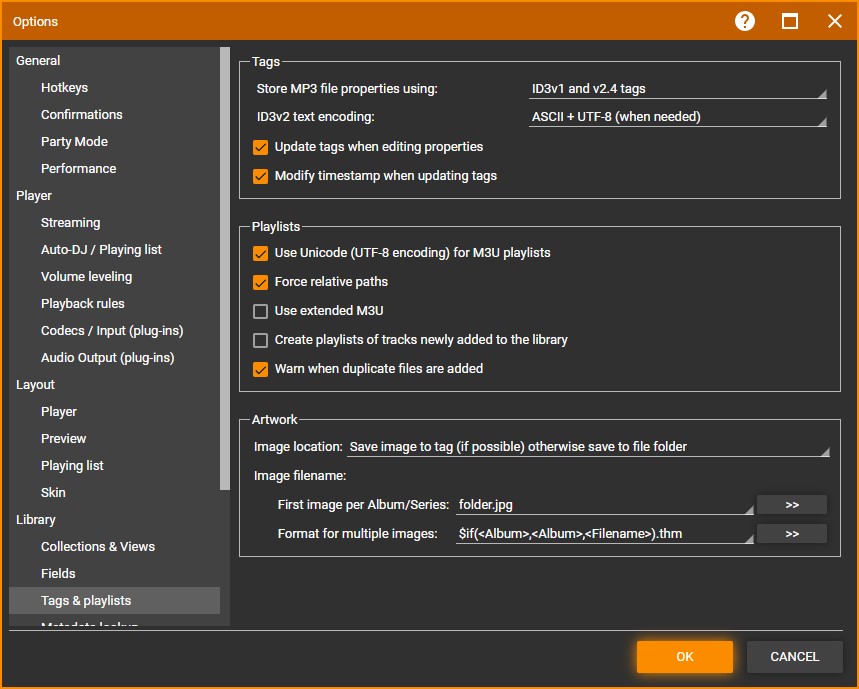 Disable Use Unicode (UTF-8 encoding) for M3U files if your player does not support this.
To export specific .m3u files
Select the Files you wish to export as a Playlist file
From right click Context Menu of the files select Send To > M3U/XSPF playlist
Choose a folder where the Playlist should be saved
Choose a filename for the Playlist
Use Set as Type to set the Playlist format that the Playlist should be saved as
To export all Playlists as .m3u files
Use File > Create Reports > Export all playlists from the Main Menu
Choose a folder for the Playlists files to be saved
Click OK to start the export of all Playlists
The export can be canceled using Cancel from the right click Context Menu on the progress bar for the export at the bottom of the main MediaMonkey window.
Export All Playlists does not have an option to choose as what Playlist Type the Playlists should be exported. The Playlists will all be saved as M3U files and any nesting structure will be lost for the exported Playlist files.
Related

Additional Help: Knowledge Base | Forum | MediaMonkey Support | MediaMonkey for Android Help | MediaMonkey 4 Help | MediaMonkey 5 Help