What's New in MediaMonkey 5
Jump to navigation
Jump to search
Wiki Home > MediaMonkey 5.0 Help > Introduction > What's New in MediaMonkey 5.0
---
MediaMonkey for Windows 5 is a major new release. It's faster, simpler, and more powerful than ever before.
What's New?
A slick, modern look and feel that's easier on the eyes and faster to navigate.
Auto-Tagging with audio-fingerprint-based lookup, to quickly lookup metadata and update your tags.
Play content throughout your home via Google Cast (Chromecast) devices (in addition to already-supported UPnP/DLNA devices).
Use Cloud Services (Dropbox, Google Drive and OneDrive) and Deezer & Spotify for your media content.
Create and edit more advanced AutoPlaylists.
Faster playlist editing via new Playlist windows
Improved play controls (play shuffled, shuffled by album, stop after every file)
Quick on-the-fly tag editing in the Preview window
New and improved Views for a better media browsing experience:

View Artist and Album information from other sources directly in MediaMonkey (via 'Info panel's).
Full screen 'Playing modes' to display Artist/Album/Lyric information as tracks play.
Pinned items (Favorites) to quickly access your favorite content or playlists.
Improved search and filtering functionality, to customize which content to display.
Quickly hide/unhide panels depending on whether you need extra space for editing or playing.
Touch mode optimized for tablets

Backup and restore the database automatically, for more peace of mind.
Support for playback of DSD (.dff/.dsf) files has been added.
Support for more standardized tags and:

New support for extended tags (available only in the Properties dialog).

+ more...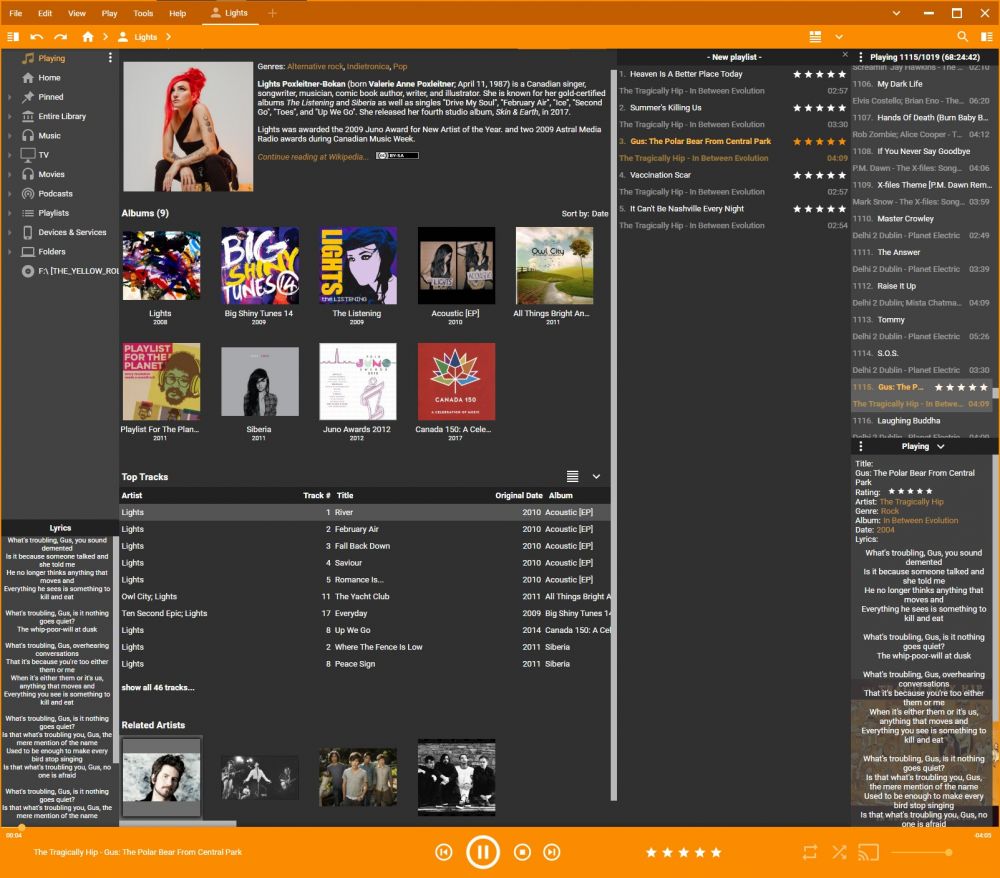 What's Different?
MediaMonkey 5 cannot run existing (MediaMonkey 4) scripts.
MediaMonkey 5 has new Addons and Skinning engines. The new framework is more powerful and cross-platform, but Addons and Skins from MediaMonkey 4 and older aren't compatible. More Skins and Addons are being developed all the time.
The default UI uses a material design theme, but if you prefer the MM4 dark theme just switch to it.
The UI is now divided into configurable panels that are now configured via Options > 'Layout'.
The Media Tree by default is only one level deep. If you prefer to navigate using the Media Tree, click the ⋮ symbol in the Media Tree, and enable 'Show all subnodes'.
The All sub-node was removed from the Media Tree and replaced by Recursive display in the Filelisting.
The Media Tree can be collapsed entirely if desired, and breadcrumbs and the 'Collection Browser' element used to navigate instead.
Visualizations have been integrated into the Preview window.
Devices (and services) are now configurable as 'Media Tree Nodes' instead of via the menu.
The 'View' switcher still switches between Views, but they are now customizable. Each View defines 'View Type', Columns & Sorts, and incorporated View Elements. Views are saved per Node (where node= Collection > Node, Collection > Node > Subnode , Now Playing, Playlists), so that for example, if you switch from Artists to Albums the View can change. View Type defines non-configurable elements of the View.
The default views use more Album Art, Artist images, and dynamic content. If you prefer minimalist list views, just switch to the 'List' views which are similar to MediaMonkey 4 default settings.
Searching the current view can be initiated just by typing a search term when the track list is in focus. Such 'contextual searches' can be configured to 'filter matches' in the current view or to 'scroll to match' the search term (in the field used as the current sort order).
There's a single customizable Toolbar.
What's Missing?
MediaMonkey 5 is Windows 10+ only. Older versions of Windows are supported by MediaMonkey 4.
Winamp (input, output plugins are compatible, but 'General', DSP and Visualization plugins are no longer supported.
Virtual CD & Previews functionality has been deprecated. Virtual CD tracks are imported as standard library tracks, while Previews are imported but can no longer be created.
MediaMonkey no longer has an unskinned (Windows Theme) version.
Artist and Album Comment are not made available in MediaMonkey 5. The data itself is still stored in the database.
External Players (like WinAmp) can't be used anymore (You can still have the default external video player be used for video playback).
How to make MediaMonkey 5 appear more like MediaMonkey 4
By default new features like the Browser View and a modern Skin are used in MediaMonkey 5. However old Views and an old style Skin are available in MediaMonkey 5:
You can change to the Metro M (Classic) Skin under Tools > Options > Skins from the Main Menu for a more MediaMonkey 4 design.
You can download and install the 3D Flow Album View Addon
You can change the way your files are displayed in the Filelisting:

Show Details now is List
Show Art now is Grid
Show art with Details now is List by Album
Show Art Browser with Details now is 3d Album View (provided by additional 3D Flow Album View Addon)
Column Browser now is Column filter
Related

Additional Help: Knowledge Base | Forum | MediaMonkey Support | MediaMonkey for Android Help | MediaMonkey 5 Help | MediaMonkey 4 Help